Industry-Academia Cooperation
Institute for Materials Research (IMR) has kept a close relationship to industries since its foundation, as was described as "Industry is a training ground of academia" by the first director, Dr. Kotaro Honda. To this day we are making continuous efforts for contributing to industries through the commercialization of new materials, giving academic/technical advice to private companies, and enforcement of collaborative research projects.
Collaborative Research with Private Companies
Joint Research and Commissioned Research in Recent Years
2013
2014
2015
Joint
Research
Projects
107
121
110
Research Fund (Thousand yen)
272,259
245,177
352,495
Collaborative Researchers
33
42
40
Commissioned
Research
Projects
77
69
73
Research Fund (Thousand yen)
1,391,566
1,219,316
917,935
Number of Invention Notification
| | 2013 | 2014 | 2015 |
| --- | --- | --- | --- |
| Projects | 34 | 42 | 27 |
Number of Patents
Number of Collaborative Patent registrations with Private Companies
/All Patents held by IMR Staffs (As of June, 2016)
203 / 304
Material Solutions Center
Material Solutions Center promotes a development of new-functional materials by industry-government-academia cooperation on the basis of cutting-edge technologies developed in Tohoku University such as nanometal control, ultra-hybrid material and quantum-dot fabrication technologies. Main research subjects are (1) infrastructural materials, (2) electronic materials and (3) energy related materials. The center is cooperated by Tohoku University headquarters and Institute of Multidisciplinary Research for Advance Materials (IMRAM), Institute for Fluid Science (IFS) and IMR in Tohoku University.


KINKEN Summer School
KINKEN Summer School is one of our contributions to industries by providing lectures on the basics of materials development and the trend of current research for the engineers in private companies. This school continued
to be held for over ninety years since 1922 and the 84th school was organized in 2014. Recently the place where the school is held alternatively changes between Sendai-city and the other area in Japan.


Attendance in Summer School
81st Nagoya
2011
82nd Sendai
2012
83rd Kobe
2013
84th Sendai
2014
85th Sendai
2015
Private Companies/ Total
74 / 105
25 / 43
25 / 32
19 / 32
12 / 26
Trans-Regional Corporation Center for Industrial Materials Research
Trans-Regional Corporation Center for Industrial Materials Research makes a social contribution through transferring academic outputs in collaborative research to social needs by material science cultivated in IMR and the actual achievements in industry-government-academia cooperation over 10 years at Kansai area. Further, Center aims to build the matured society through developing manufacture industry and local creation by strengthening industrial technology, innovation creation and educating next-generation human resources.
Achievement Data (2015)
Joint Research

48

Patents

7

Newspaper Publication

7

Research Papers

70

Domestic Conference

76

International Conference

39

Competitive Research Funds

58
Number of Technical Supports in MOBIO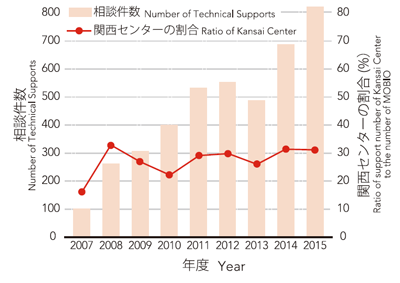 Category of supported industry (2015)