Japan was extremely restricted on importing commodities from abroad during the World War I. Especially, self-supply of chemicals and iron and steel was forced. ln order to meet these demands, the 1st Division for developing nonflammable celluloid and the 2nd Division for iron and steel were established in August, 1915 and April, 1916, respectively, in the Provisional Institute of Physical and Chemical Research of the Tohoku Imperial University.
The first head of the 2nd Division was Professor Kotaro HONDA invented the KS magnet steel soon. This was the beginning of a great success exploiting a variety of functional alloys such as new KS magnet steel, Sendust, Superinvar, Coelinvar and so on and cultivating and sending out a great number of excellent researchers. The Institute has been a pioneer for material research 100 years.
The Institute was reorganized on May 21, 1987 as a collaborative research institute to meet the current rapid progress in materials science. IMR provides opportunities for the researchers both in academic institutes and industries to carry out cooperative work for mutual benefits. The chance for this collaboration is open not only to Japanese researchers but also to those overseas.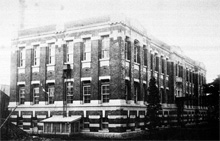 | | |
| --- | --- |
| 1916 (April 1) | The Institute was initiated in Tohoku Univ. as the 2nd Division of "the Provisional Institute of Physical and Chemical Research". |
| 1916 | Prof. Kotaro HONDA invented the KS magnet steel which brought forth the strongest parmanent magnet in the world at that time. |
| 1919 (May 22) | The Institute was inaugurated under the name of the Iron and Steel Research Institute(ISRI). The founder and the first director of the Institute was Prof. Kotaro HONDA. |
| 1922 (August 9) | ISRI was renamed as the Research Institute for Iron, Steel and Other Metals (RIISOM) and authorized to have 3 laboratories. Therefore, the research activities of this institute were extended to cover light and nonferrous metals and alloys. The name, RIISOM lasted 65 years from 1922 to 1987. |
| 1939 | Construction of a Kapitza-type pulsed magnet (5ms, 27. 3T). |
| 1949 (April 1) | RIISOM was authorized to have 21 laboratories. |
| 1952 | Japan's first helium liquefier installed. |
| 1959 | Construction of Bitter-type magnets (3.5MW, 10T). |
| 1957-1962 | 4 laboratories for nuclear materials were added and RIISOM was composed of 25 laboratories. |
| 1969 (June 11) | Irradiation Experimental Facility was established as a branch of RIISOM at Oarai, Ibaraki Prefecture. |
| 1981 (April 1) | High Field Laboratory for Superconducting Materials was established for promoting basic research for the development of high-critical field superconductors. |
| 1986 | Completion of 31. 1T hybrid magnet which generated the world's highest magnetic field at that time. |
| 1987 (May 21) | RIISOM was reorganized as a countrywide collaborative research institute to meet the current rapid progress in materials science and renamed lnstitute for Materials Research (lMR). 3 laboratories of Visiting Professors were founded for carrying out cooperative research work between this institute and various research institutions both domestic and foreign. |
| 1987 (May 21) | Laboratory for Developmental Research of Advanced Materials was established. |
| 1994 (March) | Supercomputing system was introduced. |
| 2002 (April 1) | International Frontier Center for Advanced Materials was established. |
| 2004 (April 1) | Following a national reform of the university system, the IMR was integrated as unit of Tohoku University. |
| 2004 (April 1) | Irradiation Experimental Facility was renamed as International Research Center for Nuclear Materials Science. |
| 2005 (April 1) | Laboratory for Advanced Materials was renamed as Advanced Research Center of Metallic Glasses. |
| 2006 (April 1) | Osaka Center for Industrial Materials Research was established. |
| 2008 (April 1) | International Collaboration Center was established. |
| 2010 (April 1) | Integrated Materials Research Center for a Low-Carbon Society was established. |
| 2010 (April 1) | Center of Neutron Science for Advanced Materials was established. |
| 2011 (April 1) | Kansai Center for Industrial Materials Research was established. |
| 2012 (June 1) | Research and Development Center for Ultra High Effi ciency Nano-crystalline Soft Magnetic Material was established. |
| 2013 (April 1) | Advanced Research Center of Metallic Glasses was renamed as Cooperative Research and Development Center for Advanced Materials. |
| 2015 (April 1) | Collaborative Research Center on Energy Materials was established. |
| 2016 (April 1) | Trans-Regional Corporation Center for Industrial Materials Research was established. |
| 2016 (May 21) | 100th anniversary of IMR. |